What are menthol.click balls?
Menthol.click cigarette balls are nothing more than a replacement for click cigarettes that have been removed from stores. Thanks to our balls, you can restore the taste of your cigarette by choosing one of the many available flavors.
Which cigarettes are the balls suitable for?
The balls are suitable for all cigarettes available on the market, no matter if it is a regular or a slim version. You can also use them in iQOS devices that use Heets inserts.
Are cigarette balls safe?
Yes! The balls are made only of natural ingredients which guarantees their high quality. Remember to store the balls at room temperature and do not expose them to sunlight. The product should also be protected from children.
How to apply a cigarette ball?
A basic applicator in the form of a spike is added to each ordered package of balls (if you order 5x 100 pcs, you will receive 5 mini-applicators). Use it to make a hole in the filter of a cigarette or heets cartridge, then insert the ball of your choice inside and press it with the applicator.
You can also purchase a handy applicator that has a built-in ball holder. More information can be found in the tab Applicators.
Mentol.click reviews
We have over 3000 positive comments on our Allegro account. We are a pioneer when it comes to cigarette flavor balls in Poland!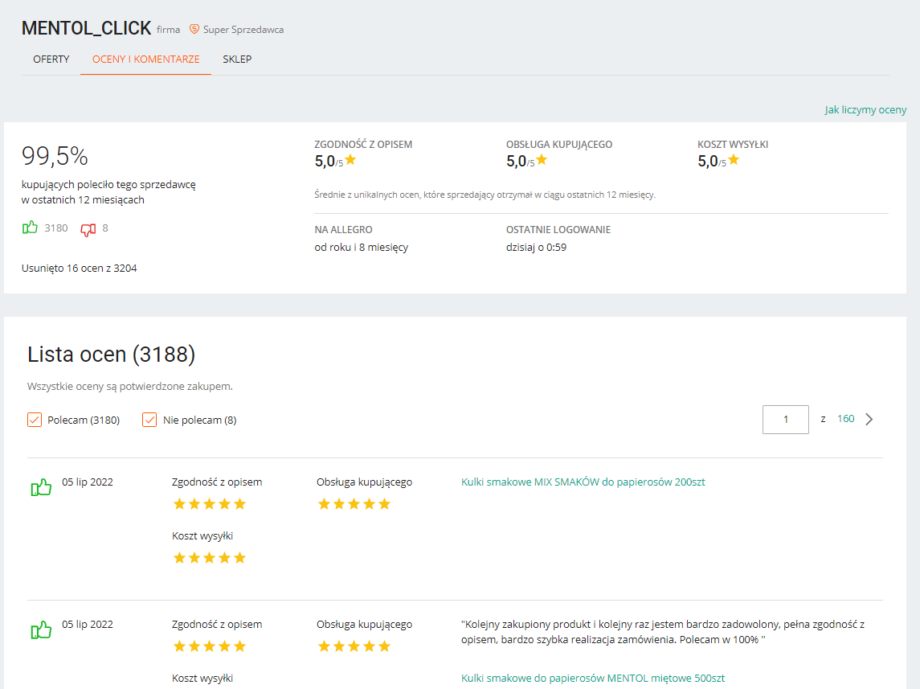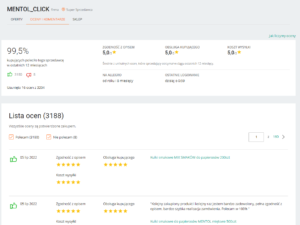 What shipping methods are there?
In our store you can order our products using two shipping options if you decide to pay for the order in advance:
InPost parcel locker - PLN 11.99
InPost courier - PLN 12.99
Polish Post. Foreign Shipment - PLN 20.00
When the order amount (not including shipping costs) exceeds 19.99 PLN there are two shipping options with payment on delivery:
InPost courier - Cash on delivery - PLN 16.99 (available for orders over PLN 19.99)
When the order amount (not including shipping costs) exceeds 50.00 PLN the cost of shipping with a parcel machine changes:
InPost parcel locker - PLN 6.99
If you choose to order above 100.00 PLN the shipping cost is by parcel machine COMPLETELY FREE!
InPost parcel locker - PLN 0.00
Choose what is more convenient for you!
Do you ship abroad?
Yes, please select your country after going to the checkout. The cost of shipping abroad is 20,00 PLN.
Estimated delivery time to Europe is 2-4 business days. If you are wondering how long the parcel will go to your country - write to us at livechat or [email protected]
I don't have a Polish bank account - what should I do?
Currently, the only option to pay for products shipped abroad by ordering through the store is the use of a Polish bank account. If you do not have one - contact us by e-mail, we will provide you with all the information needed to make a SEPA transfer.
How long does it take to process the order?
Orders placed within one hour 16:00 we ship the same day - you will receive your package already NEXT DAY!
If you place your order after 16:00 pm, your order will be shipped the next day.
In extreme cases, the shipment may be delayed, about which we will inform you by e-mail.
APPLICATOR - QUESTIONS / ANSWERS / HOW TO FIX
How to use the ball applicator with thin / medium cigarettes?
In the box with the applicator there is an adapter for the selected type of cigarette. Put it in the cigarette holder. On the right side there is a place for your favorite adapter, which you can always have with you!
Can I use the heets applicator?
For applying menthol.click balls to heets filters, we recommend using a toothpick, which we add to each package of balls that you order.
How many balls are in the applicator?
The applicator has a magazine for 100 BBs. You can pour the entire sample of 100 pieces or an oval box.
The ball applicator stopped working - what should I do?
Sometimes it happens that one of the balls breaks in our applicator (e.g. due to a fall, high temperature, incorrect use of the ball feeder, when there is more than 1 ball in the punching chamber), then the appropriate steps should be taken:
1. Remove BBs from the magazine, keep the closure open
2. Prepare a bowl with hot water and washing up liquid.
3. Place the applicator in the bowl and shake it in water so that the water reaches everywhere, then shake the applicator over e.g. a sink to rinse the water
4. Repeat step no. 2-3 times.
5. Put the applicator aside for 5-10 minutes for the applicator to dry, then add some beads to check if everything is OK
6. If the above method did not work - please contact us at [email protected]
I have another question / problem regarding the applicator
Please contact us at [email protected]